The whole is more than a sum of its parts. Our multi-disciplinary approach results in some of the brightest ventures. It's all about getting the right point of view, and sometimes it's an opinion of an expert from the field that can help you have a clear vision of your potential.
Our global network of industry professionals is just a phone call way. You can choose from an extensive pool of our expert advisors currently working in the industry to get strategic insights into public policy and regulation, markets, companies, projects, and technologies and gather invaluable market intelligence.
Advisory services can take the form of anything from a phone call, meeting, or round table to a longer-term strategic project engagement with our in-house team. All our services can be tailored based on the client's needs.
INDUSTRY INSIGHT SERVICES
Access our industry experts to obtain relevant market insights and fast-pace your learning trajectory in various areas:
Supply Chain & Operations
PROFILES OF OUR ADVISERS
Our expert advisers currently work on various positions and roles, including:
Executives and top-level management
Project developers and investors
Engineers
Installers and construction workers
Sales and marketing professionals
Social impact and CSR professionals
NEW ENERGY SECTORS



HOW CLIENTS WORK WITH US
Gathering market intelligence is the first step in validating your hypothesis before taking strategic initiatives and starting projects. Our advisers can provide just the right piece of information that you need in order to solve the puzzle. Whether you are a start-up or a multinational conglomerate, access to our network of industry professionals can save your company valuable time and money.
Leading management and strategy consultancies often take new projects outside of their regular portfolio in order to strengthen their industry ranks. Our advisors support consultancies in getting immediate access to expert knowledge and perspectives to enhance their industry knowledge during client pitches.
Following the Paris Agreement, governments around the world are shifting from carbon-emitting energy sources and technologies. We provide high-level, progressive and realistic recommendations, on policy and regulations, to governments and international organizations moving towards low carbon economies powered by renewable energy. Our experienced advisors can help you speed up the learning process, drawing on our engagement with many national and local policies, and avoid some of the common pitfalls.
WE HELP YOU SEIZE THE OPPORTUNITIES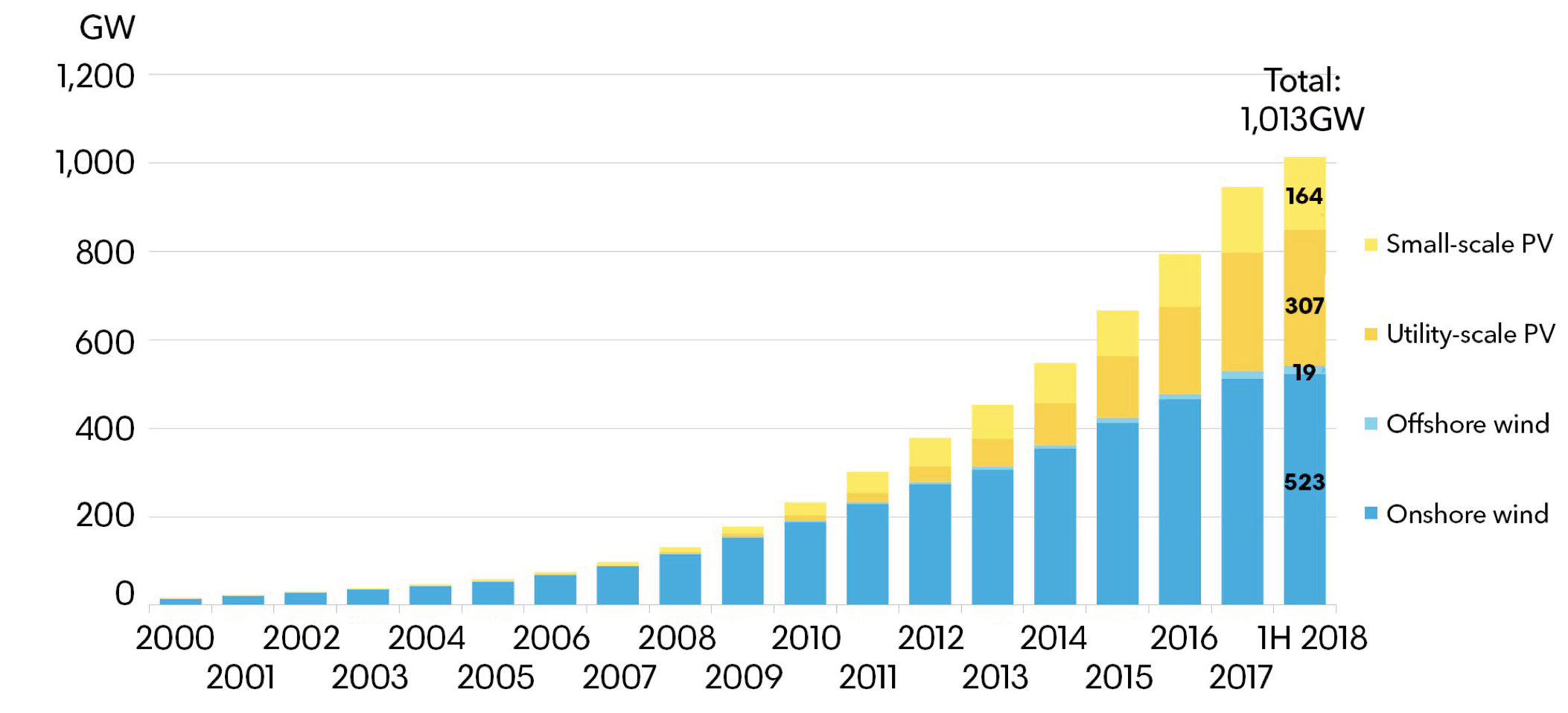 Graph: Global wind and solar installations, cumulative to June 30, 2018
(source: Bloomberg New Energy Finance)