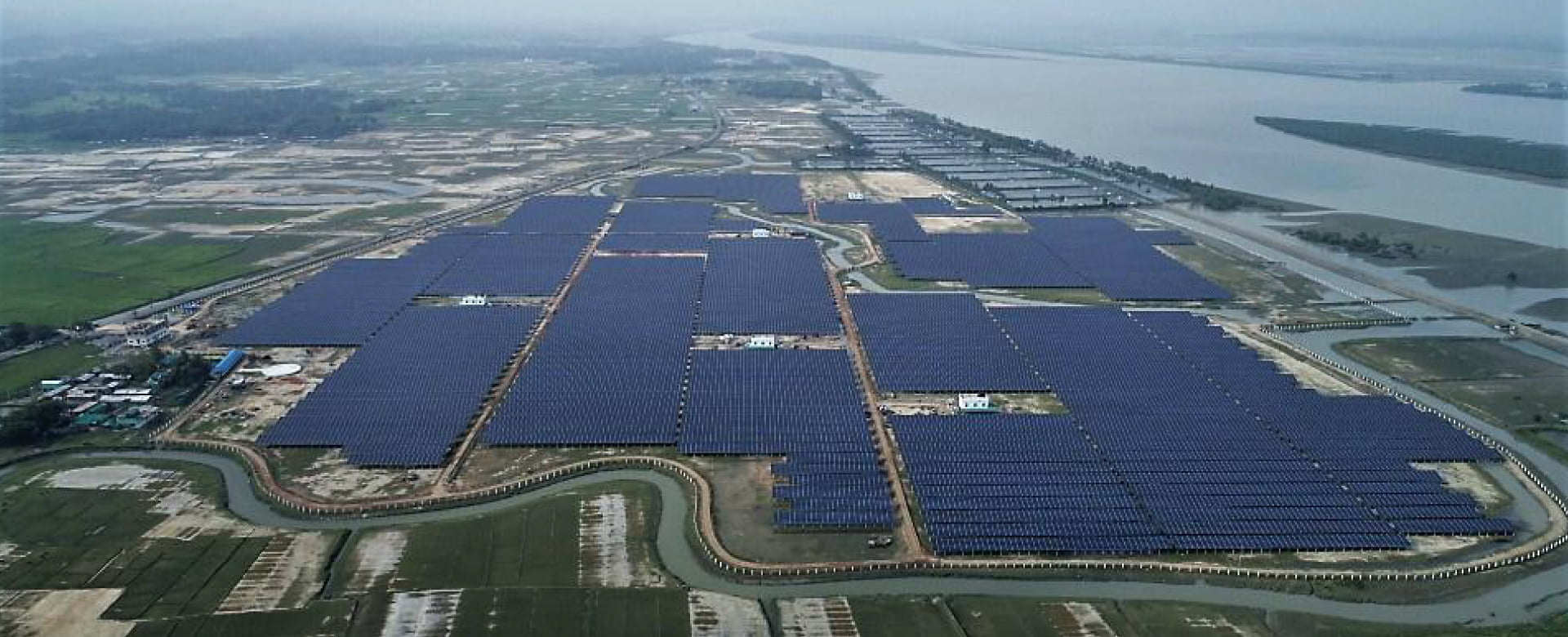 THE FIRST UTILITY SCALE SOLAR PROJECT IN BANGLADESH (28 MW)
We have been advising Joules Power Limited (JPL) on a 28 MWp utility scale project utilising an innovative financing solution from GuarantCo, which is part of the Private Infrastructure Development Group (PIDG). This project is supported by the governments of the UK, Switzerland, Sweden, the Netherlands, and Australia. The project is a demonstration of our business philosophy and global capabilities in solar projects.
Technaf Solartech Energy Limited (TSEL) is the first utility-scale solar project in Bangladesh delivered within the 1.6 GW solar project pipeline announced last year. The project is located in Teknaf, a sub-district of Cox's Bazar, in the Division of Chittagong. It forms the southernmost point of mainland Bangladesh and has a population of over 200,000. The solar PV plant has an installed capacity of 28 MWp. The expected annual yield for year one is 43,000 MWh and at peak production, the plant supply will cover up to 80% of the present electricity demands of the entire Teknaf region. The reduction in CO2 emissions over the next 20 years is estimated to be around 400,000 tons.
The Technaf Project was announced as the winner of the Asian Power Awards 2018 at the gala ceremony on September 19 attended by over a hundred senior executives and prime industry figures in Jakarta, Indonesia. The 28 MWp project in Teknaf, Bangladesh completed in partnership was selected by the judges as the "Solar Power Project of the Year – Bangladesh".
Bangladesh, the export-oriented country whose economy is growing at 7% Year-on-Year, is already facing electricity shortfalls. Rising electricity demand is projected to reach 34,000 MW by 2030 while the installed generation capacity is currently around 16 GW. In order to help boost economic growth, the Government of Bangladesh is planning to increase power generation beyond expected demand with a total investment in the sector estimated at $70.5 billion. According to recent media reports, Bangladesh is planning to diversify its energy mix, currently heavily based on natural gas, by increasing the share of renewable energy to 10% by 2020.
CLIENT:
Joules Power Limited
ADVISORY SERVICES:
Engineering, Procurement and Financing